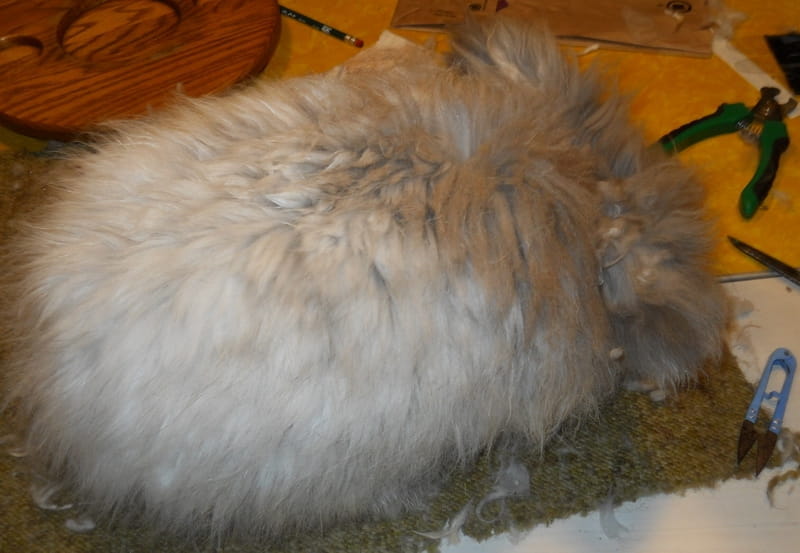 This Sydney before his haircut. He can still find food, but generally he finds it more by sniffing than seeing.
---
Hillside Farm English Angora Bucks
There are usually at least four if not almost double that number of bucks here at Hillside Farm. Each buck has his own space, although they can still visit with their neighbors through the wire separating them. Sometimes, if bucks aren't neutered, they can get territorial and grumpy with other bucks. They don't seem to ever grump much with females, just with other males. And usually only with other males if there's females around. Just to make it easier to figure out who is gonna get along with whom, we just keep all the adult males in their own separate areas.
---
---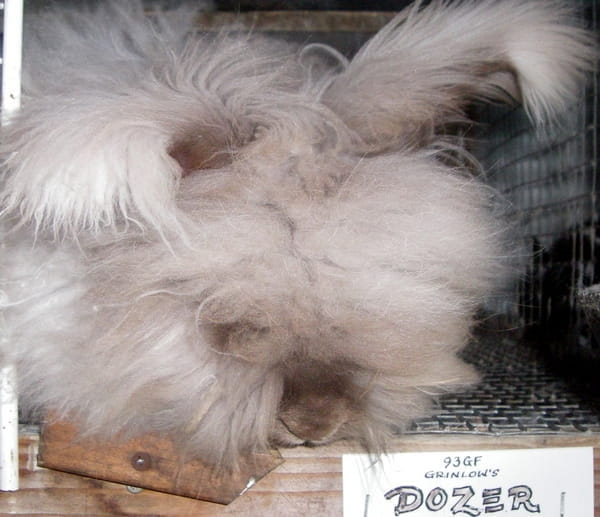 This is our very senior chocolate buck, Dozer. He's retired from buck duty now, since in rabbit years he's probably about 110 or so. He's currently living with our very senior doe, Dolce. Maybe it's the bunny equivelant of a geriatric home? They seem pretty happy to be with each other although I really don't expect to see any babies from them living together. As of this writing (August 2017) Dozer is seven and a half years old and Dolce is seven and a quarter years old. Very geriatric as far as bunnies go, should any babies appear, I'll be astonished. They do seem a lot happier with company, though, than living alone. Especially Dozer, as a herd buck he's spent a lot of time in his own space and not had anybunny to cuddle with. So he's now a happy boy. Dolce seems happy, too, so it's all good.
If you click on his picture, you'll be able to see more pictures of him.
Grinlow's Dozer
Born: 2/9/2010
sire: Awesome Angora's Avalanche
Dam: Awesome Angora's L'Oreal
Tattoo: 93GF
Color Genes: aa bb Cc Dd Ee