---
---
---
---
---

Grinlow's Dozer
Hillside Cheiri

Born April 4th, 2012
Gender: Doe
Sire: Hillside Sherman, a black tort buck
Dam: Fair Hare's Maile, a REW doe
Ear Tattoo: 2F13
Color: Black
Color Genes: aa BCc D_ Ee
Cheiri is a lovely black doe with nice conformation, dense wool that almost has some crimp and is a good mum.

She was born in a litter of five black baby bunnies, which was named the 'All Blacks'. Not sure how many of you follow New Zealand's football (soccer) team, but they're called the 'All Blacks'. Mostly, I suspect because they wear an all black uniform. Not that bunnies follow soccer, but if they did, they'd cheer for the All Blacks, I'm sure.

Cheiri met up with our bunny judge here in Hawaii, Cheryl, as a young bunny. She was selected out of the litter as the best one so she has remained here at Hillside Farm and was named 'Cheiri' as a somewhat similar name to 'Cheryl'. One of my near relatives is also named 'Sheryl', so it would be too confusing to have a bunny by that name as well.

Cheiri has had one litter this year, one of whom is Zeus. Since we're planning on keeping him as a herd buck, Cheiri will be grandbunny to many, we hope.

Soon as I get more pictures of Cheiri, I'll change out some of the duplicate pictures here on her bio page. You'd think there'd be zillions of pictures of each bunny, but there doesn't seem to be as many as I thought.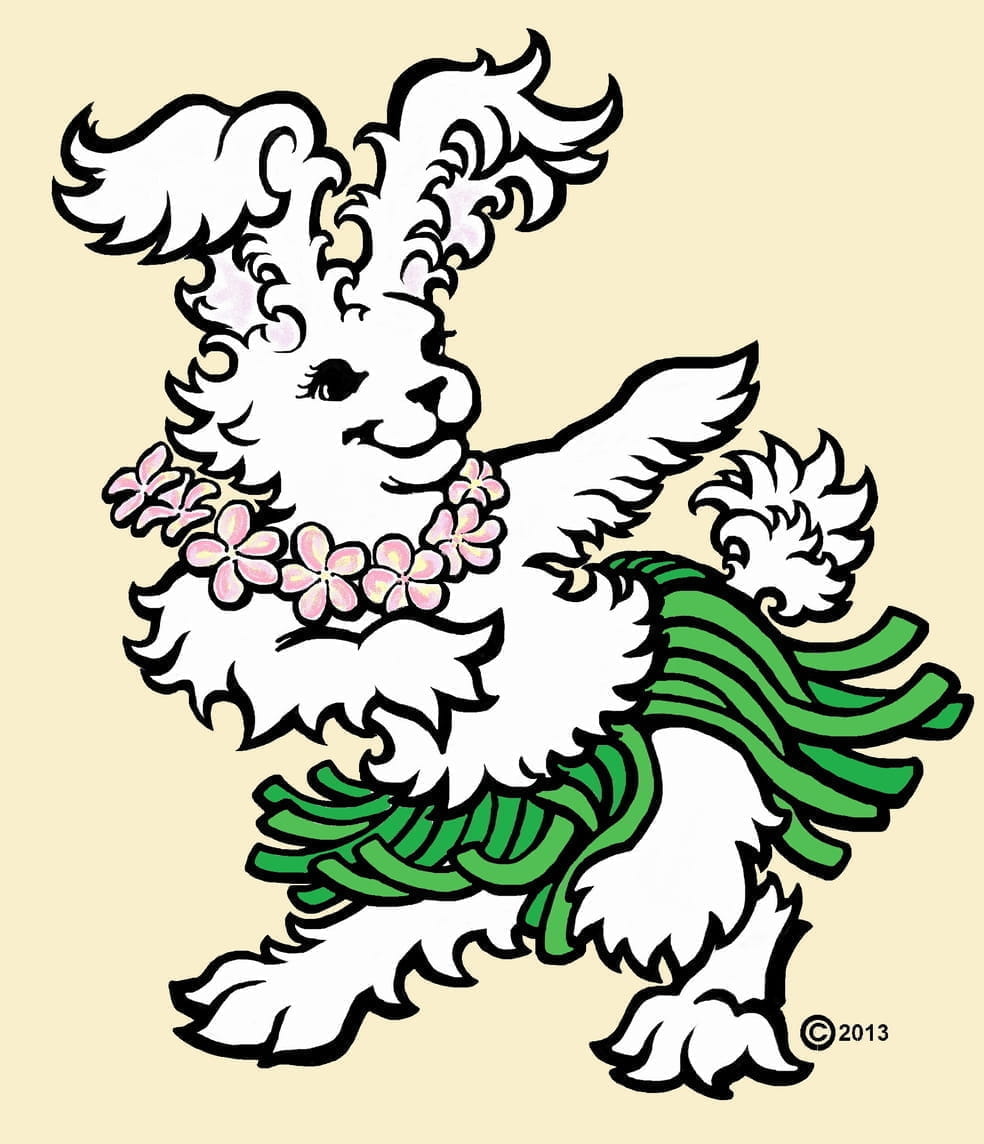 Cheiri provides fiber for the "Moonlit Dance" color of Hula Bunny yarn.
Hula Bunny yarn isn't usually dyed, so we rely on the colors of the bunnies to provide the color of the yarn. It's 40% bunny fluff from our bunnies here at Hillside Farm which provides the color and the insane softness. There's 40% fine Merino sheep's wool added for stretch, since without it, the yarn would have very little elasticity. Then the remaining 20% is silk to add that touch of shine. Spun up to fingering weight and put up in two ounce skeins.
Hula Bunny yarn is why Hillside Farm Hawaii has this whole herd of English angoras. They will occasionally go to a bunny show, but their primary purpose is to make fiber for Hula Bunny yarn. Which they're actually pretty happy to do. They think all humans should feed bunnies treats and groom them. I'd suspect from a Hillside Bunny's point of view, it's the whole purpose of having humans around. Bunnies don't get real philosophical when there's treats and grooming available.
---